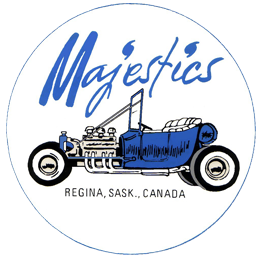 Majestics Club History - Part 1 1962-1992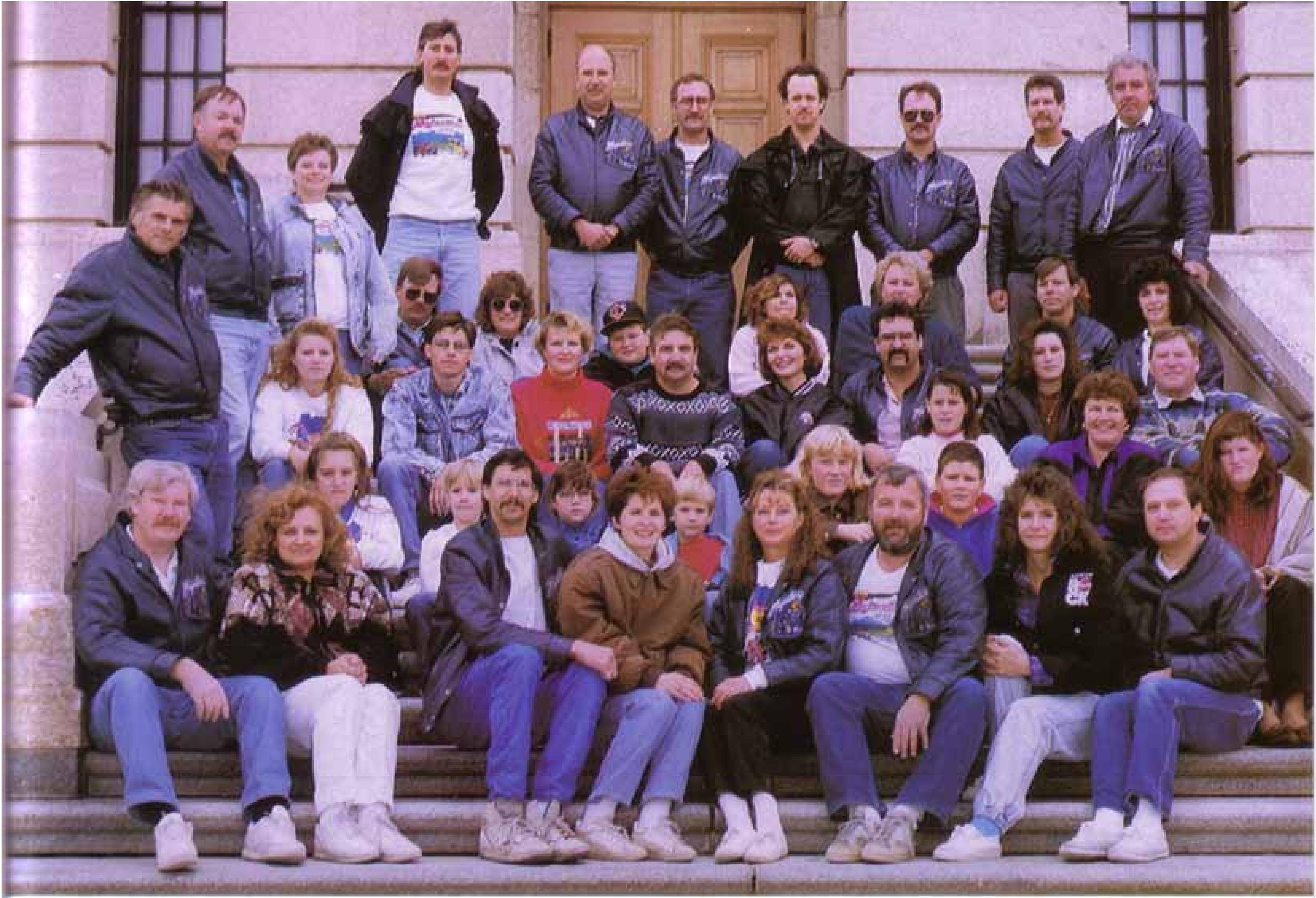 MAJESTIC CAR CLUB AUGUST, 1992
(From the Top Left to Bottom Right)
Bob and Val Middleton, Rick Canlin, Dave Irvine, Mike Straucn, Chas 5011.11tZ, Brian Drew. Terry Kalaman, Hary Maortons
Dean Moon, Elaine Bochard, Danny Irvine, Anita Fraser, Bev Maertens, Leon and Donna Broker
Barry Green_ Lana and Kelsey Middleton. Debbie and Dwayne For!nay, Mary Ann Nugent, Bryan Milne Angela Broker, Milt Raddysh
GeneIle Chelsea, Ashly and Michael Fortney, Jill Raddysh, Janine Broker, Scott, Bev and Lisa Raddysh Maurice and Marlane Hall, Dale and Annetta Martens Beryl and Wayne Smith, Donna and Ian Zumrnack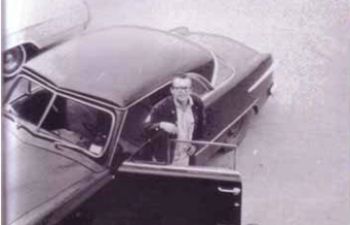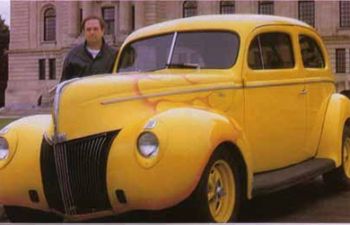 Current Presidents Message
by Ian Zummack
WHERE WERE YOU IN "62"
A line made famous by the movie advertising for American Graffiti.
For a group of individuals, that question would be answered with a We were laying down the ground rules for the formation of a new Rod and Custom Car Club" to be known as the Majestics. Who would have thought that from that meeting, would be the beginning of one of the longest surviving Car Clubs in North America,
Thirty years and still going strong, the Club has become one of the most recognized organizations in the community and the province. Throughout the years many friends and aquaintances have been made within, and outside the club, many indirectly due to involvements in charity and community involvement.
The strength of this club has always been its members and their families, and as President I would like to take this opportunity to thank all the present and past members, and their families who helped make this club what it is today, and for continuing a dream of a group of young men in "62".
In this book you will find a brief history of the past thirty years and I hope the memories we bring back to you are fond ones.
P.S. WHERE WERE YOU IN "92'
ACKNOWLEDGEMENT
On behalf of the editors, Maurice and Marlene Hall, Hary and Bev Maertens, I would like to thank all the current and past members who contributed to this publication, It is our hope that this book will be treasured as a history of the Majestics Car Club, as it began in the sixties, established itself in the seventies with the building of a club garage and matured in the eighties as it hosted two National events.
A special thanks goes to Ted Lahrmann who not only trained us in yearbook publishing, but also made many useful suggestions that were incorporated into this publication.
Maurice W. Hall
First Presidents Message - Tom Mahar
As the founder and first president of the Majestics Car Club, may I take the opportunity to offer my congratulations to the membership of this quality club on their 30th Anniversary. The Ivlajestics have represented hot rodding well in a very positive way, to Regina. Saskatchewan and Canada, over the past 30 years.
A dream of a rod and custom club was born in 1961. Many hours of planning and working towards its introduction took place during those first months. What began as a dream of mine (Tom Mahar) and shared with my girlfriend, Gwen Wilkie(Mahar), became a reality in 1962. I prepared the constitution of the club and drew up the requirements for membership. At this early stage it was decided that the club would be a quality club and it would be a club which would strive to improve the image of car clubs, to the community.
During this time, the night spot on Victoria Avenue was Oscar's Last Chance, and on Albert Street it was Tubbs Drive in, Teens would gather at night to show off the work on their rods and customs. The music of the day was by the Fireballs, Little Eva, Bobby Curiola and a guy named Dion. Dion had one big hit which was really popular. That hit was called The Majestic". We had been looking for the right name for the club. This was it, our club would be called the Majesties. Much plannning went into introducing the Majestics to Regina. After searching for an idea for our crest and logo, a majestic lion in a hot rod was chosen. The crest was attached to the back of a royal blue jacket, and the Majestics were a visible force in Regina.
The first and early membership consisted of:
Tom Mahar (president) (51 Ford Vic)
Joe Wolbaum (37 Ford)
Bob Rogers (40 Ford Coupe)
Ron Chamberlain (47 Plymouth Coupe) Ernie Welta (Ford Coupe)
Bob Botkin (40 Ford Coupe)
Paul Nagy (57 Ford)
Mike Lily (Rod)
Bob Bernstein (52 Ford)
Bob Schreiner (50 Ford Coupe) Kent Brunskill (Ford Coupe) Ted Perry (50 Plymouth)
Don Root (53 Chev)
Gerry Schmidt (40 Ford)
Joe INovac (62 Chev)
Our club was interested in the community. We held two dances raising $1,000.00 and 5500.00 for the United Appeal. We also drove crippled children to the YMCA on Sunday afternoons. Generally, we affected peoples' outlook on car clubs. We gathered weekly for club meetings and had many social gatherings. Many of our members have remained very good friends over these 30 years. Our requirements for membership were of high standing, and requirements for displaying our plaques on the cars were selective. Our Majesties cards displayed safety on the back with the slogan "Driving is as Simple as ABC, Always Be Careful'.
The dream of the club was to stage a successful car show in Regina. This has been done now for many years.
What was once a dream and a vision of one person some 30 years ago, has become a successful organization which has affected hot rodders and hot rodding in North America for 30 years. My congratulations to the Majestics Car Club.