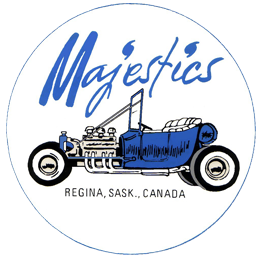 Welcome to the Majestics Welcome to the homepage of the Majestics Car Club, based in Regina, Saskatchewan. About the Majestics
The Majestics Car Club of Regina was formed in the Fall of 1962. It was started by five local high school students. The original name was the Majestics Rod & Custom Club.
Deciding on a name was the first major task for the new members.
It was decided that a name that no other club had, should be chosen. After many ideas, the Majestics was brought up. After searching through hundreds of Car Craft, Rod and Custom, Hot Rod and many others, it was decided the name would be The Majestics Rod and Custom Club.
No other club in North America had that name and there were thousands of clubs at that time. With a name like Majestics it was only natural that the first crest had a lion in a Ford roadster.
---
News
News
Majestics 2023 Run to the Oasis - UPDATE
---
 The early entry draw for their Entry Fee Refund
Sponsored by: Queen City Performance
The Winners were:
Lana Kincaid – Moose Jaw, SK. Driving a 1986 GMC
Ron Best – Warren, MB. Driving a 1966 Ford Mustang

Congratulations to both of our winners
---
 Present Members Vehicles
See All Members VehiclesGo to the Photo Gallery
Our Executive